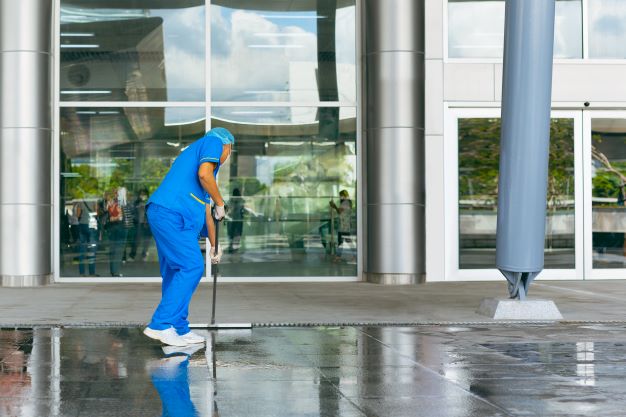 Beautiful Entrances to Offices and Buildings With Topnotch Commercial Office Cleaning
Does your office look like it can use some cleaning? Commercial office cleaning services don't only benefit interiors of establishments because entrances can also benefit at the same time. Since these entrance areas play a crucial role in making good first impressions among clients and customers, you have to be very mindful of how your entrances have been laid out. Beautiful and clean building entrances are much easier to navigate and are also enjoyable for spending time in.
Check on Building Entrance Conditions
Mats on offices and commercial businesses usually see much more foot traffic compared to welcome mats used in residences. For this reason, you have to constantly check on the condition of your mats. Below are a few tips to help ensure that your entrance mats stay as clean as possible:
Keep the front entrance dry and clean.

During specifically busy times, you have to inspect mats for presence of water stains or dirt.

Make sure that your entranceway is cleaned every week, or just have your mats vacuumed. No matter what you choose, experts like Courtesy Building Services that specialize in commercial office cleaning can do such task efficiently, quickly, and with no need to impose on you or your employees.

Remove tiny spots of debris and dirt by taking the mats outside and brushing them down.
Focus on Safety
Safety must always be your main priority to make a good first impression. A great way to emphasize safety is through placing mats near doors. Keep dampness and dirt from the outdoors safe out of your commercial building or office with the help of these mats. By having them in place, anyone entering your premises will feel welcomed with a place where they can wipe their feet before they proceed inside.
Storms can cause heavy rains, and rain can lead to heavy water damage to floors. Water puddles can also pose a serious hazard with people being at risk of falling and slipping. You can add an umbrella stand and put some recognizable wet floor signs during rainy days.
Strike a Perfect Balance
Another way to beautify the entrance of your commercial is to strike a perfect balance. You will want to retain the balance to how appealing and beautiful you would like your entranceway to become, and how much time you are willing to spend in doing it. While you can save on the initial costs of choosing cheaper mats and doing just a few measures, in the long run, this attempt at saving might cost you even more.
Courtesy Building Services is a reliable full service commercial and janitorial cleaning company properly equipped to keep your business in tip top shape for the many years to come. The company boasts of hundreds of happy and satisfied clients who will be more than happy to testify to the quality of their work, efficiency of their professional team, and the stunning cleanliness they were able to experience. If you are ready to discover how these professionals can help you, feel free to contact Courtesy Building Services today!